Liverpool Primary Schools Athletics Association and
Liverpool and District Primary Schools Cross Country League
ZOE TYNAN SPIRIT OF RUNNING AWARD

In 2016, the city of Liverpool lost one of its shining stars. Zoe Tynan was an established international footballer but before she channelled her talents into one sport she had graced Primary School Cross Country and Athletics with her spirit. To honour the spirit of Zoe Tynan the LPSAA inaugurated an award to recognise similar children who lead others by example and encouragement.
As a school we felt that one of our Year 6 pupil's exemplified Zoe Tynan's Spirit of Running - at the Cross Country City Championships Kwessi was presented with a nominee award in recognition of his commitment to sport and cross country.
St. Cuthbert's Application

Kwessi is a hard-working athlete who has matured so much this season – now as a Year 6 pupil it has been a privilege to witness him flourish not only through his sheer talent and determination but also as a leader. Kwessi both appreciates and embraces challenge and this has certainly been the case through many seasons of Cross Country, he has consistently represented our team and established himself as a sporting role model.

Despite his true passion being athletics (135m sprint) he understands the discipline and stamina that Cross Country can bring him and as a result has worked tirelessly to beat his own personal best. Kwessi regularly and most-deservedly now finishes within the 'top 10' and is a clear example of what perseverance can truly achieve.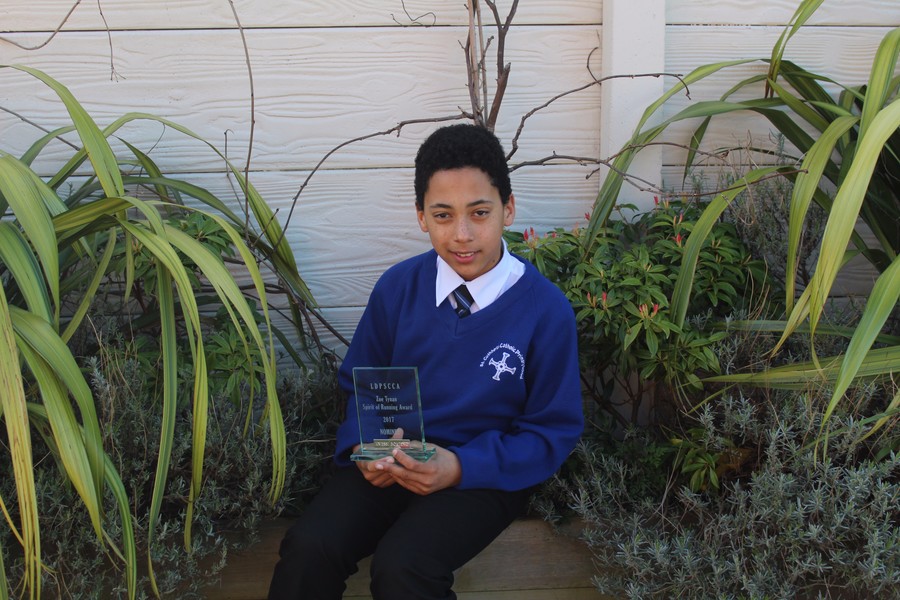 Being appointed as team captain has further developed Kwessi's passion for running; he is clearly aware of his role in the team. He is always there to provide a word of encouragement to younger team members and will always support our team to the finish line – congratulating them and thanking them for their contribution. It is evident that no matter what the challenge, Kwessi's positive sporting attitude is nothing less than impressive. It is particularly admirable to see him applying this to his academic work in the classroom. Cross Country has clearly played a part in developing Kwessi's character giving him strength both physically and mentally.

Without doubt, Kwessi emulates our school motto 'Be the BEST I can' and this has been noticed and admired by his peers, teachers, parents and the running community. As he prepares to wave goodbye to St. Cuthbert's and his final Cross Country season, it would be fantastic for him to be acknowledged for his contributions to Cross Country and promotion of the sport.